The only thing less popular than the President is…….
The new, kinder, gentler, Nancy Pelosi led Congress.
When the new Democrat controlled Congress took over in January, they got a reprieve, with about a 15% jump in approval ratings just for being there. Nancy Pelosi and Harry Reid of the Senate came in with guns firing. They passed all kinds of major legislation including raising the minimum wage. The approval rating increased. Things were looking good. However, starting a month or so ago, they got hung up on Iraq. They started inserting all kinds of pork into the military bill, which got it killed. They started setting deadlines for Iraq, which got the legislation killed. The result? A nearly 10% drop in favorability since they started their attack on the war in Iraq. The result on the President during this same time?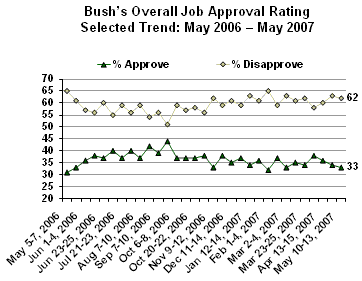 Largely unchanged.
Now, if the person supporting the war remains largely unchanged, and the people opposing the war are dropping like flies, that should tell ya something. What it tells me is that since the people opposing the war are living and dieing on that one issue right now, and they're ratings have dropped BELOW the person supporting it, the answer is obvious. A couple of days ago I did a thingy on how I felt media was mis-representing the US sentiment by how they presented their polls. I think this is more evidence that I'm right.
A clue here to Nancy, Harry, and the Dems. Most people don't like the war. However, they understand what's going on. The more the Dems undermine our soldiers, and that's what it LOOKS like, the worse it's gonna get and the very apparent take-over of the White House in 2008 will be squandered exactly the same as it was by Kerry in 2004. They've read this situation totally wrong by relying on the extreme left caucus within their party and basically nothing but push polls in the media. And unless they start looking at the situation realistically instead of personally political, they'll lose the White House in 2008 and probably Congress as well. You heard it here first. ( Well, maybe, I haven't seen anyone else going out on this limb yet. )