Representative Hank Johnson sees racial overtones in the Kanye West slurs
Not sure if I got this exactly right.  Let me take another stab at it.  Kanye West, who is black, ripped the microphone from the hands of Taylor Swift, who is white, to assert the fact that Beyonce, who is black, should have won.  Beyonce did indeed win the best video of the year.  Kanye didn't apologize.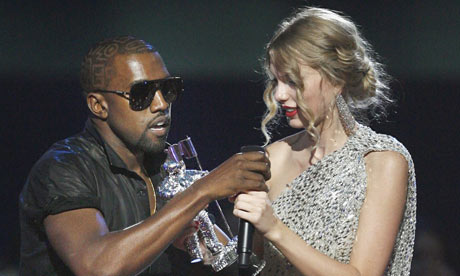 Although President Obama supposedly called Kanye a jackass, Representative Hank Johnson so far has not had any issue with it.
When Representative Joe Wilson blurted out "You lie" at President Obama, Wilson did apologize.  That's not good enough for the same Hank Johnson:
In an obvious reference to the Ku Klux Klan, Rep. Hank Johnson, D-Ga., said Tuesday that people will be putting on "white hoods and white uniforms again and riding through the countryside" if emerging racist attitudes, which he says were subtly supported by Wilson, are not rebuked. He said Wilson must be disciplined as an example. 
Unless Hank Johnson is more than willing to assert that what Kanye West is overtly racist by attacking a young white girl to demand a black lady should have won, and in the past asserting that President Bush intended to kill black people, then in my opinion Hank Johnson is purely racist.  What Joe Wilson did is debatable and supported by history where black Representatives have heckled white Presidents without recrimination.  What Kanye West did was obviously wrong.  Wilson apologized, West won't.  Where's your evidence Hank?
Selective race cards are just another form of racism.  And quite frankly, I think most of the USA is becoming way too tired of race card abuse.