Don't shoot, I want to grow up
Scott Ott makes another one of his brilliant observations regarding the beating death of Derrion Albert:
37 Chicago public school students killed last year. The latest, Derrion Albert, a college-bound honors student, beaten to death with a wooden board.

Government operates the housing, government runs the school. Who's accountable? I'll go out on a limb here and guess that the debate will be over gun control.
I'm going to go out on a limb as well and agree totally with Scott.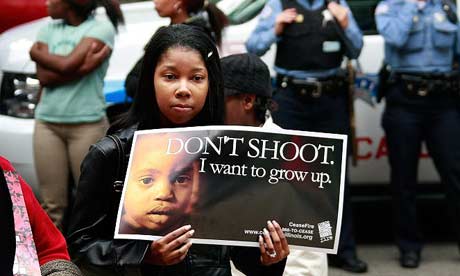 The message already being sent via publication is "Don't shoot".  Derrion wasn't shot.  He was beat to death with a large piece of wood.  A REALLY large piece of wood.  This piece of wood was so large, that if I saw someone I knew walking down the street with it, I would have asked them why they were carrying around a very large piece of wood.  If they had told me they were going to beat someone to death, or at the very least use it in a fight, I would have probably used my cell phone to tip off police.  We have a bad enough image here, it does me no good to see it get a lot worse.
Transpose to Chicago.  A bunch of boys are walking down the street with a very large piece of wood.  No one cares.  They then use this very large piece of wood in a fight.  Again, no one goes out of their way to stop it.  They then beat a defenseless kid with it.  No one stopped them.  While that kid was down, they beat him and kicked him.  No one stopped them.
Little girl in that pic, whether or not someone uses a gun or not is totally and completely irrelevant.  I get the message to stop the violence from it.  But, since it's so obvious of late that people take messages totally without interpreting them, her message won't help anything.  It doesn't matter if someone's going to get shot or not.  Ban guns, they'll beat you to death with a very large piece of wood.  The only difference is those innocents without guns won't have a chance against kids using very large pieces of wood.  The problem is most definitely not the instrument, it's the morality and ethics of those who don't mind beating a defenseless person who's down to death.  As long as people think that way, there will be problems.  Period.  If those kids had a respect for their fellow man and even the slightest bit of a conscience, they would never have hurt a defenseless person.  In that case, a gun is moot.  Their is no instrument.
However, personal responsibility is a concept radical liberals hate.  The concept that this isn't a problem created by an inanimate object, but rather by a human being, totally contrasts with the liberal agendas of the last 30 years.  Eliminate the instrument and the problem just vanishes.  Eliminate coal and people won't burn anything.  Eliminate our nukes and there will be no war.  Eliminate cigarettes and people won't smoke anything.  Eliminate responsibility to provide housing, food, medical care, and everything else and your kids will understand the value of everything else.  Eliminate guns and people won't use large pieces of wood.
Think that's nuts?  They did ban guns in Chicago.  So, they used a large piece of wood instead.